'The Second Life of Roy G. Biv" at Gallery Libby Sellers
4 July - 16 August '13
This Summer Gallery Libby Sellers is pleased to present a kaleidoscopic selection of
contemporary and specially commissioned works by designers including Anton Alvarez,
Stuart Haygarth, Peter Marigold, Ryuji Nakamura and Paola Petrobelli.
Many of the works were first presented in Design Miami/Basel 2013 and have now been
brought together to challenge expectations of colour in the domestic setting. Amongst the
works will be exclusive pieces from Anton Alvarez's Thread Wrapping Machine series,
which have been conceived as a sculptural installation – with each stool or bench coming
together to form a singular vivid form. Peter Marigold's Wooden series of cast furniture
designs and the recently launched 24 series of glass lights by Paola Petrobelli will also be
on display.
Julie Richoz, winner of the 2012 Design Parade award at Villa Noailles in Hyères, has produced a small edition of her beautifully refined kinetic paper study Armand and to compliment this the gallery will present Ryuji Nakamura's Water Lily bench made from hundreds of hand-coloured metal rods which have been meticulously welded together to form an architectural grid. And finally, Stuart Haygarth's majestic Tail Light chandelier, first presented through the gallery in 2007, has been reworked by the designer into a handsome table-top version of the light.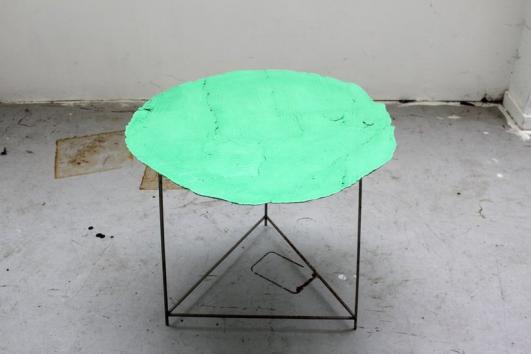 Peter Marigold, Wooden Table Green 1, 2013
Paola Petrobelli, 24.2.3 Table Lamp, 2013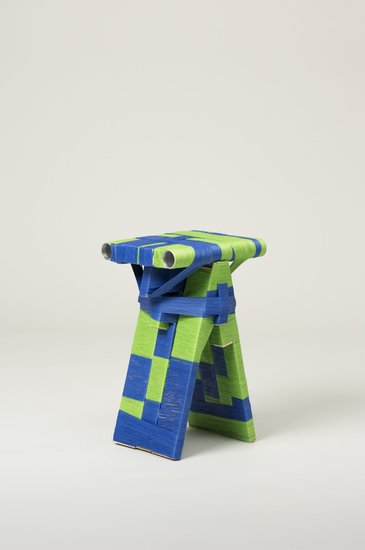 Anton Alvarez, The Thread Wrapping Machine Series Stool, 2013
Stuart Haygarth, Table Tail Light, 2012
Ryuji Nakamura, Water Lily, 2012
Paola Petrobelli, 24 series, 2013
Anton Alvarez,The Thread Wrapping Machine series, 2013