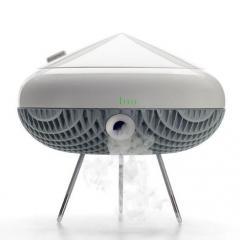 The "Island"
by Mathieu Lehanneur for AirMineral
During an interview in 2010, the technological philosopher Peter Sloderdijk analysed,
'Man is a pupil of the air,' said Herder. Within lies the great issue of contemporary politics: to make an international climatic policy possible from the idea according to which we belong more to the air that we breathe than to the ground on which we walk. The air is our true home. What emerges is a victory of subtle air over solid earth, a phenomenon of a reversal of values proper to Taoist thinking which has taught for a long time that the subtle is always more real than the solid."
No designer has better embraced this axiom than Mathieu Lehanneur at the beginning of this third millennium. With The Island for Aimineral he has designed the prototype of a new machine dedicated to well-being through the respiratory tract with the absorption of the marine plasma Quinton.
With The Island the renowned marine air accompanies you all year round in an urban environment. The Island is the first natural marine bio-spray allowing daily assimilation of minerals, whether for individual or collective applications (hotels, offices, institutes, homes).
This patented process allows a mineral environment to be reconstituted in any closed area. The device sprays a 'mineral serum' in the ambient air. It is a natural pharmaceutical product subject to a specific medical protocol. It automatically generates sequences of mineral mists consisting of homogenous micro- particles under 2 microns, which gives a monthly consumption of one litre for a 50 m2 area.
Micro- particles, because of their size, remain suspended in the air for several hours. The absorption of the product then takes place through the respiratory system and mucous membranes. The micro-mineral marine base used is derived from works by the biologist René Quinton (1897) who brought to light analogies between sea water and blood plasma. This micro- filtered sea water, thanks to a cold sterilisation process preserves all the active agents naturally present in sea water: that is 97 essential minerals as well as numerous trace elements. There is no assimilation of vitamins without their presence in the body.
This solution endowed with all pharmaceutical approvals, has been used for almost a century, both in injectable formulas and drinkable specialities, currently available at pharmacists. The serum Isotonic by Quinton was synthesized in a simplified formula as a 9% physiological salt serum used as a universal base for all transfusions in hospitals. The bio-medical innovation lies in this new means of absorption by breathing air (aerosol therapy), allowing a fast, even immediate, assimilation of the active agents without human intervention, without any medicinal contraindications, allergies or saturation. This technology provides all the known advantages of the natural marine climate to the dermis, the respiratory tracts and general vitality.
The "Island" by Mathieu Lehanneur for AirMineral
The "Island" by Mathieu Lehanneur for AirMineral