'Beyond Entropy' at the Architectural Association School
3 – 28 May '11
London
Rethinking Energy with World Leading Scientists, Architects and Artists
ENERGY, the unseen powerful force that shapes every aspect of life from our cellular structure to our economy will be explored through BEYOND ENTROPY a unique free exhibition and series of events that bring together world leading scientists, architects and artists at the Architectural Association School of Architecture.
The show and events are part of Beyond Entropy, an ambitious two-year project from the AA School involving 24 leading scientists, architects and artists working together to explore and broaden the ways we think about energy. Before coming to London, Beyond Entropy has been shown in Europe including at the Venice Architecture Biennale 2010 and Societe de Lecture, Geneva.
Events:
1. The energy of Mies van der Rohe:
13:30hrs, Tuesday 3 May
Vittorio Pizzigoni, founder member of Italy's famous Baukuh architectural practice and Beyond Entropy participant, discusses how Mies van der Rohe, one of the most influential architect's of the 20th century used industrialisation to simplify energy use in construction.

2. John Stezaker on the potential in meaning: CANCELED
13:30hrs, Tuesday 10 May
Taking a break from his current show at the Whitechapel Gallery artist John Stezaker discusses his work and explores the relationships between potential in meaning and potential energy and how different ways of seeing the world produce different forms of energy.

3. The City as Creative Energy:
18:30hrs, Friday 13 May
Speakers including international architect Carlos Villanueva Brandt, explore the concept of a creative city. What conditions are required for a city to expand the creative potential of the human brain? London is a melting pot of cultures, thinking and activity - a hive of energy powering a creative centre of excellence recognised across the globe. How do we stay on top of the creative world and help the city and its people be ever more creative?
4. Lino Bo Bardi; Primitivism and Sustainability:
13:00hrs, Tuesday 17 May
Art historian Dr Silvia Davoli from the Warburg Institute discusses the life and work of Lino Bo Bardi, an architect famous for her organic and surreal designs that broke new ground in both the concept and practice of sustainable buildings – often proposing construction methods that reflected the buildings and methods of Brazil's native peoples. Her well known designs include Sao Paolo's famous Museum of Modern Art.
5. Time Travel - Shamanism to the Space age:
18:30hrs, Friday 20 May
The team behind the exhibition's Time Machine Prof. Andrew Jaffe, Cosmologist, Imperial College London and architect Shin Egashira, join photographer Goswin Schwedinger to explore the human desire to alter our past and futures. The ability to engage with other people of other times, planets and dimensions is a dream of science but is also found in some cultural and religious practices. The event will explore the fascination of time travel, the desire to explore other realms from Shamanism to interplanetary travel and whether science fiction is any closer to becoming science fact.
Stefano Rabolli Pansera, Director of Beyond Entropy, at the Architectural Association School of Architecture said: "Cities are alive, living, breathing, energy filled beings. The exhibition and events fuse hard science with artistic freedom and interpretation to explore new ways of thinking about energy in all its forms.
Sound by Architect: Salottobuono Artist: Massimo Bartolini Architect: Dario Bendetti and Riccardo Rossi (© Valerie Bennett)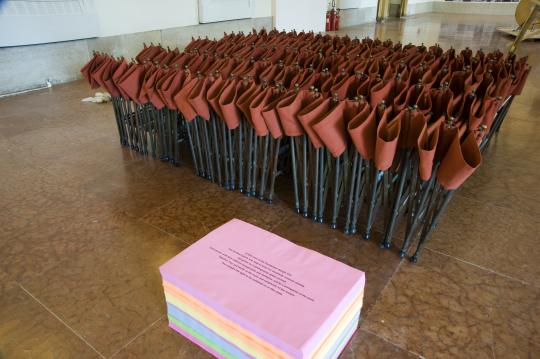 Electric by Architect: Vittorio Pizzigoni Artist: Alberto Garutti Scientist: Giuseppe Celardo (© Valerie Bennett)