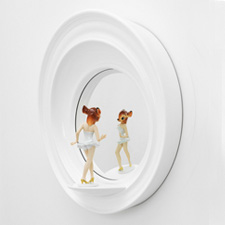 Design as Art?
continued
There are a growing number of young designers who are beginning to embrace DesignArt as a strong and deliberate part of their working remit. One such designer, Barnaby Barford, has been selling his tongue-in-cheek and rather kitsch figurine sculptures through David Gill Gallery for nearly two years but will openly admit, "I studied to design for production and made one-off pieces for fun in my spare time. To my surprise at my degree show, I had art collectors approaching me." Now, like an artist, he has built up a following that is keen to buy into his inimitable style. Barford, however, is likely to argue himself as designer, perhaps due to his training. "It's dangerous to be pigeon-holed," he insists. "We are all too ready to categorize people but actually creative people are pretty multi-skilled in their output."
The charismatic Spanish designer Jaime Hayon began making one-off or limited edition objects and toys while working for Benetton's research division in Italy, called Fabrica. Backed up by the security of a job, he was liberated in his free time to develop his own work. Today, his Barcelona-based studio manages to balance commercial commissioned work with self-initiated projects. Hayon professes, "We are living in a hybrid world of design where 'design' has adopted new meanings. The democracy of mass-produced design has become boring. Artist designers can make one-off or limited pieces at a good price. People want unique, sophisticated things." He muses, "In my opinion, industrial design is going to become fashion," a notion Barford would support.
Indeed, the high-end 'DesignArt' side of the market draws comparisons with that of haute couture – marveled by many, accessible to few. It is within this arena that new ideas and concepts are explored, eventually filtering down into the fast-turnover and affordable mass-market, where copying is rife and individuality diluted. "The world accepts mediocrity too easily," states Hayon. "A quick fix is too easily fulfilled today with a constant bombardment of stuff," believes Barford. "My parents' generation used to save up to buy something special that would last."
Perhaps DesignArt goes some way to contributing some spectacle amid increasingly derivative globally available products. Crystal brand Swarovski have the reputed Crystal Palace project of extraordinary contemporary chandeliers designed by talents such as Ron Arad, Tokujin Yoshioka, Fredrikson Stallard, and even Lenny Kravitz; Rabih Hage Gallery merges sophisticated interactive technology with the tactile Corian material in a collection of tables designed by tech-wonderkind Moritz Waldemeyer; Paul Smith customizes antiques with his contemporary signature twist and sells them from his Mayfair store; younger talents such as Stuart Haygarth, Peter Marigold, and Julia Lohmann contribute furniture and lighting objects in guerilla-style pop-up shows from Gallery Libby Sellers. The heat is on within the hard-to-define DesignArt world – if reputable designers working on limited or one-off items with unique style and techniques are attracting collectors and museums, wouldn't it be a sound investment to get in on the act?
The Pixel Ballet Installation by Jaime Hayon - Bisazza Milan 2007