Milan Design Week - Fashion and Furniture
Salone del Mobile 2019
Collaborations between the worlds of fashion and furniture have been increasingly visible at Milan Design Week and this year has been no exception. Big fashion houses and luxury car brands in partnership with established home-ware designers were making the big statements this year with an array of spectacular installations and eye-catching displays across the city.
Since Ralph Lauren and Missoni launched their home ware collections back in 1983, many other fashion houses have followed suit, making use of the burgeoning market for home décor. Whether displaying their own collections or working in collaboration with established designers, there has been growing interest in the Salone as a means of increasing brand recognition, and utilising the power of the press to connect to an international audience all in one place. Furniture brands themselves it seems are now confined to their showrooms and the fair itself, with the latter perhaps the best place for them to do business.
Ambitious exhibitions this year included Missoni in collaboration with artist Alessandra Roveda, who presented an entire house filled with colourful crocheted furniture in Missoni' s signature gradients. Bedside tables, televisions, lamps and cacti, every domestic item knitted in vibrant stripes and chevrons. Relative newcomer to furnishings, Gucci, also gave us a feast for the senses with a temporary two-story boutique. Housing their new more-is-more home collection, Gucci's maximalist aesthetic was applied to everything from furniture and wallpaper to incense trays and candles, plates and rugs.
Meanwhile, Loewe and COS were two examples of brands focused on teaming craft with innovation; Loewe displayed it's appreciation of the arts and craft movement with the exhibition 'Baskets'. Here, eight international artists and craftspeople, each specialising in traditional basketry techniques, developed new work utilising Loewe's core material, leather, conserving traditional practices by giving them context in a modern setting. Conversely, COS, in collaboration with London-based architect Arthur Mamou-Mani, presented a high-tech digitally-fabricated bio-plastic pavilion interwoven throughout the 16th century Palazzo Isimbardi.
To add further drama, Lexus presented an installation of light and movement entitled 'Leading with Light' by Japanese duo Rhizomatiks, an immersive exhibition incorporating live performance and complex choreographed lighting.
Sensitive designers and projects by furniture brands were showing less grandiose installations yet no less impactful pieces. Jaime Hayon for Fritz Hansen, Sé's collaboration with Ini Archibong at Spazio Rossana Orlandi and Christophe Delcourt's beautifully balanced pieces at Spotti Milano were a few of the highlights. Curves were prevalent, as was nostalgia for grand mid-century glamour with Dimore Gallery delivering an homage to Gabriella Crespi and Kvadrat displaying a selection of classic furniture creatively re-imagined in contemporary fabrics.
Gucci Home 2019
Missoni - Home Sweet Home
Loewe Baskets 2019
Cos - Manou-Mani - Confera
Cos - Manou-Mani - Confera 2019
Lexus - Rhizomatiks Leading with Light 2019
Jaime Hayon - Fritz Hansen
Sé - Ini Archibong 2019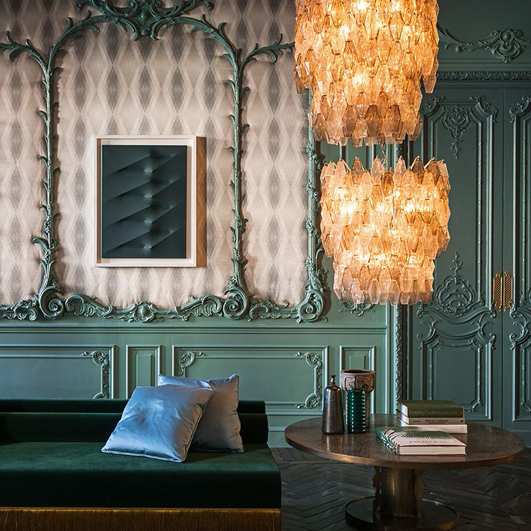 Dimore Gallery 2019
Dimore Gallery 2019