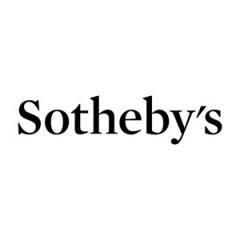 Important Design at Sotheby's New York
6 June '17
On June 6, Sotheby's Important Design auction will present a curated selection of exceptional design works from the last century, including chapters of International Arts and Crafts, Art Deco, American Studio, and Contemporary design.
The sale is led by the landmark offering of eight extraordinary panels by Jean-Théodore Dupas from the Grand Salon of the legendary S.S. Normandie ocean liner. Consigned from the esteemed Forbes Collection, the panels were acquired by Malcolm Forbes in 1981 and were the centerpiece of the main entry of the historic Forbes Galleries on Fifth Avenue for nearly thirty years.
An exquisite "Religieuse" floor lamp by Pierre Chareau and monumental conference table by Émile-Jacques Ruhlmann further anchor the Art Deco section of the sale.
Additional highlights of the sale include a rare side chair by Charles Rennie Mackintosh from the Jacqueline Fowler Collection, a unique dimetrodon sculpture by Claude Lalanne, and an incredible "Lectori Salutem" desk by Jeroen Verhoeven.
Claude Lalanne, Dimetrodon II, 1998. Estimate $500,000–700,000.
Husband-and-wife design duo François-Xavier and Claude Lalanne's irresistibly whimsical sculptures reimagine the diverse flora and fauna that surround them. Dimetrodon II is distinguished in this regard, however, by the fact that the flora employed in this work is living, growing, and ephemeral. The sense of fantasy is heightened by the imaginative additions of a horn on the dimetrodon's forehead and a fountain element spraying through its teeth. The active nature of the sculpture – from its blossoming, plant-covered skin to its lively waterwork display and energetic pose – animate Dimetrodon II and evoke the spirit of a real dragon
François-Xavier Lalanne, Mouton Transhumant, circa 1988. Estimate $100,000-150,000.
While Claude Lalanne tends to favour creating works with botanical matters, Francois-Xavier's practice often involves sculptures of animals, which are meant to enliven the domestic experience. The title of this sculpture alludes to 'transhumance,' the farming practice of moving livestock seasonally for grazing, not uncommon in the French countryside, while playfully suggesting the domestic possibilities for the sculpture's placement.
Gerrit Thomas Rietveld, Rood-blauwe Stoel, circa 1923–1929. Estimate $150,000–200,000.
Although Rietveld joined the legendary De Stijl group, in 1919, two years after it was founded, his rood-blauwe (red-blue) chair became an emblem of the movement. Inspired by the work of his fellow De Stijl member Bart van der Leck, Rietveld began experimenting with the primary colours red, blue and yellow in the early 1920s, as well as incorporating plywood into the backs of his chairs, as it did not crack or warp as quickly as solid panels. Rietveld obscured this unconventional combination of plywood with solid beech under a layer of bright paint. Little could he have known that this would be this very colour scheme that would solidify his chair's place in history as one of the ultimate icons of 20th-century art and design.
Pierre Chareau, Religieus Floor Lamp, Model No. SN31, circa 1928. Estimate $400,000–600,000.
The Religieuse design is one of the finest examples of Chareau's ingenuity, creative spirit, and experimental approach with regard to materials. Beginning in 1923, he would incorporate more metal in his designs, collaborating with metalworker Louis Dalbet. He started with a few small items such as jardinières and radiator covers, but he soon extended his experimentation to lighting. Integrated within the design, metal opened up new possibilities for other materials. Chareau would discover through these trials that the combination of mahogany, alabaster and patinated metal produces a fabulous contrast between the alabaster's angularity, the graphic quality of the black metal edges, and curvature of the base.
George Nakashima, Cross-Legged Conoid Table, 1971. Estimate $20,000–30,000.
George Nakashima, the master of the American Studio Craft movement, wanted his tables, benches and chairs to be treated as everyday functional objects, not as if they were precious possessions. "I use only solid wood," he wrote. "Why? Because for me solid wood is honest and real." This elegant cross-legged table embodies his renowned craftsmanship and exacting attention to organic material qualities, emphasising the expressive figuration of wood grain and the natural burl.
Jeroen Verhoeven, Lectori Salutem, 2010. Estimate $150,000–250,000.
Dutch designer Jeroen Verhoeven believes that stainless steel was the perfect material for his Lectori Salutem desk because of the contrast and tension between the medium's inflexibility as a raw material and the curved shape of the piece. "Shaping metal into such fluid forms is not easy given its natural state," Verhoeven explains, adding that questioning the potential of the medium "is part of the initial process, our dialogue as to how to proceed, using this material meant that this was something we could show the viewer, they can see our story in the work."
Max Ingrand, Monumental Chandelier, circa 1961. Estimate $30,000–50,000.
This chandelier illuminated the hall of the the Tour Arago Défense, located near the Seine, in the neighborhood of La Défense in Western Paris. Conceived by Architect Jean de Mailly circa 1961, the building was distinguished by its rectilinear lines and its unusual facade, which combines glass and green-coloured panels. Jean de Mailly was an emblematic figure of modern French architecture, combining classic aesthetics with functionalism. This philosophy corresponds with Max Ingrand's own conception of lighting, which was informed by his predecessors' ideas yet radically modern. "Lighting must answer certain norms. It must adapt itself to the volume of the rooms which it has to light, participate to the spirit and architecture of these rooms in order to fit there. Its shape, material, and radiance must be modulated and conceived in parallel to the architecture, animating its surface while specifying their function," Ingrand said. Certainly this is the case for the following this chandeliers, whose numerous faceted glass elements set into a futurist brass structure present a dynamic contrast to the geometry of the Tour Arago hall.
Maria Pergay, Flying Carpet Daybed, circa 1968. Estimate $80,000–120,000.
"There is something deep inside between me and stainless steel," Maria Pergay explained of her fascination with the metal. "This material which looks so strong, hard and cold is sweet and not sharp." With its sensuous curve and evocative title, this Flying Carpet daybed epitomises Pergay's delicate, almost poetic use of steel, which she believed was "as precious as the most precious of all woods."
Joris Laarman, Branch Bookshelf Prototype, 2010. Estimate $140,000–180,000.
Not one to shy from the sciences, Dutch-designer Joris Laarman is well-known for his interest in emerging technologies. Joris Laarman Lab, which he founded in 2004, brings together scientists, artists and engineers in the spirit of collaboration. "Sometimes you find yourself looking at very ordinary things in such a strange way that a new world seems to open up," Laarman said. This creative ambition comes to fruition in his stunning Branch bookshelf, which both challenges material boundaries, while remaining rooted in organic subject matter.
Harry Bertoia, Untitled (Welded Form), circa 1968. Estimate $60,000–80,000.
As an artist, Bertoia was a multi-hyphenate – working not only as a sculptor but also as a furniture and jewelry designer, a printmaker and a creator of architectural installations. His rather abstract imagery was often drawn from natural phenomena. But above all, as his son (and fellow artist) Val Bertoia has stated: "Harry was a metal man. When Harry was making furniture he was making metal comfortable for the human body. When Harry was making sound sculpture, he was making metal comfortable for the human mind." Untitled (Welded Form) exemplifies Bertoia's devotion to metalwork as well as suggesting the lyricism of his sound sculptures.