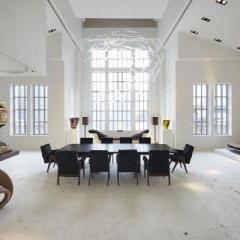 Carpenters Workshop Gallery Opens New York Gallery
November 2015
The iconic Takashimaya Building, at the heart of Fifth Avenue New York will welcome in November, in its monumental penthouse, the fourth exhibition space of Carpenters Workshop Gallery:
CARPENTERS WORKSHOP GALLERY | NEW YORK
A NEW EXCLUSIVE SPACE FOR COLLECTIBLE DESIGN
After the London and Paris galleries, followed by the centre for artistic research and development Carpenters Workshop | Roissy, Julien Lombrail & Loïc Le Gaillard are pleased to announce the opening in November 2015 of a new space in New York at 693 Fifth Avenue.
Carpenters Workshop Gallery | New York will take up the two top floors of the iconic Takashimaya Building, whose façades and boutiques were recently renovated by the architect David Chipperfield in a design-forward style.
A few meters from the MoMA and Christie's auction house, the Takashimaya Building is today a key landmark in the New York landscape.
A unique setting of elegance in its entirety, dedicated to the the elite and excellence of collectible design, the 19th floor houses the masterpieces and signature works of artists and designers, emblematic of the gallery. The 20th and top floor of the building, with 12-metre high ceilings, bathed in natural light and open to the Manhattan skyline and its vibrant 5th Avenue, will hold a luxurious private salon.
Regular exhibitors at American fairs such as Design Miami and The Salon: Art+Design, Carpenters Workshop Gallery's new space will enable it to reinforce the reputation of its artists and designers in the USA and South America, and strengthen its relations with its American collectors.
Carpenters Workshop Gallery already represents well-known American artists such as Johanna Grawunder, Wendell Castle and Rick Owens. Julien Lombrail & Loïc Le Gaillard affirm their ambition to discover new talent, through the representation of a culture of excellence.
The inaugural exhibition of Carpenters Workshop Gallery | New York will present mighty works by leading artists as Ingrid Donat, Vincent Dubourg, the duo Studio Job, Random International, Robert Stadler, as well as works of talented designers newly represented by the gallery such as Nacho Carbonell and Vincenzo De Cotiis.
4366.jpg
4367.jpg
4368.jpg
4369.jpg