Make Yourself Comfortable at Chatsworth
28 March – 23 October '15
Make Yourself Comfortable at Chatsworth, the headline exhibition for Chatsworth in 2015, opens on Saturday 28 March 2015. Encouraging new insights into the historic house, the exhibition incorporates leading contemporary designs, alongside the private collections of the Duke and Duchess of Devonshire.
The specially selected pieces by an array of internationally acclaimed, contemporary designers including Thomas Heatherwick, Marc Newson and Moritz Waldemeyer, sit alongside bespoke commissions by Raw Edges and Tom Price. Work by students and alumni from Sheffield Hallam University will also be on show, providing a geographical and design-related link to Chatsworth. Together, all of these pieces continue Chatsworth's longstanding history of collecting groundbreaking works of art and design. Recent acquisitions include Drift by Amanda Levete and Kröller Müller chairs by Piet Hein Eek. All the items featured have been carefully selected to reinterpret either the space in which they are displayed, or an object from the existing collection, thereby deftly combining the traditional and the contemporary.
The exhibition showcases two specially commissioned designs for Chatsworth. Raw Edges presents Endgrain seating, situated in the Sculpture Gallery. This piece's clever use of vibrant hues neatly references the 6th Duke's desire for a colourful space to house his sculpture collection when the gallery was originally built in the 19th Century. Counterpart by Tom Price will be on display in the Chapel and consists of two blocks that sit together, but are materially and diametrically different. The dark block is made from coal, a reference to the mineral rights held by the Devonshire family while the other, lighter block directly references crystals in the mineral collection at Chatsworth.
Photos by Chatsworth House Trust
Counterpart by Tom Price, Make Yourself Comfortable at Chatsworth
Endgrain by Raw Edges, Make Yourself Comfortable at Chatsworth
Water Block by Tokujin Yoshioka, Make Yourself Comfortable at Chatsworth
Seating for Communicating: Over the Rainbow by Jung Myung Taek, Make Yourself Comfortable at Chatsworth
Long-Form-Library by Thomas Mills for ifsodoso, Make Yourself Comfortable at Chatsworth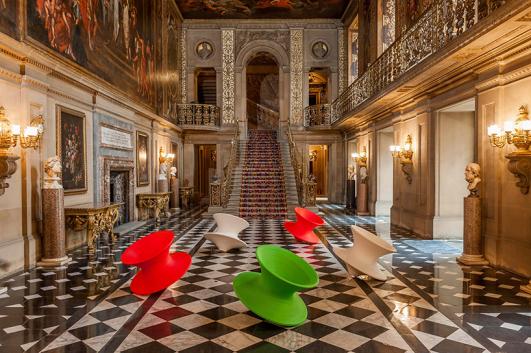 Spun chairs by Thomas Heatherwick, Make Yourself Comfortable at Chatsworth
Specially commissioned chairs by students and alumni from Sheffield Hallam University, as part of Make Yourself Comfortable at Chatsworth