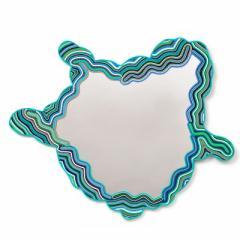 Ocean Collection by Campana Brothers at Carpenters Workshop Gallery
May 22 - July 27 '13
For their first gallery exhibition in France, the Brazilian designers have created, in tandem with Carpenters Workshop Gallery, a series of unusual pieces entitled «OCEAN COLLECTION», specially designed for the gallery space.
ABOUT OCEAN
An unexpected evolution of the Campana Brothers' signature Sushi series, the OCEAN COLLECTION builds on the mash up of materials that resembles Japanese maki rolls developed by the Brazilian design duo back in 2002 when they were investigating methods to make upholstery without relying on traditional techniques. The pieces include a SUSHI BUFFET and a SUSHI CABINET, a fresh expression of WALL and PENDANT MIRRORS, and four VITORIA REGIA STOOL.
We decided to use mirrors because Humberto began with mirrors that he framed with seashells, explains Fernando. So we're re-visiting our start now using new materials and benefitting from the maturity of our work. For the Carpenters Workshop Gallery exhibition, we wanted to create an art installation where mirrors connect with other realities and become synonyms of other dimensions. In addition to the WALL MIRRORS, we created PENDANT MIRRORS because when you put them in a room they twist and turn, absorbing the space and reflecting what is around them .
Ocean Collection by Campana Brothers at Carpenters Workshop Gallery
Ocean Collection by Campana Brothers at Carpenters Workshop Gallery
Ocean Collection by Campana Brothers at Carpenters Workshop Gallery