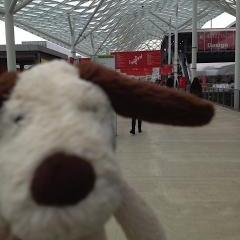 Wilson goes to the Milan Furniture Fair...
Wilson visited the Salone del Mobile this year, a place where they show many, many sofas and chairs and things one can't really describe unless one has been to engineering school.
"Salone" is a very serious fair with thousands of exhibitors from all over the world.Their dreams to be as famous as WILSON or Philippe Starck will probably be crushed.
Wilson immediately introduced himself to the WORLD FAMOUS Patricia Urquiola who said "HOLA WvIlSOOnI!!!!" in her thick Spanish accent. Patricia has decided to design a dog basket next year (This is MUY SECRETO!) EMBARGOEDO!!
He got hung up at Vitra.. He said "KEIN KOMMENTAR" when asked what the %$££@-***@he was doing hanging there.
Friendly WIlson always finds mates. Not sure about the sofa though he says. It reminded him of the customs officials at Zurich airport. Yes, WIlson has been skiing.. twice.
Magis, now THEY appreciate the WILSONS of the world. He asked if he could take one home, and then said "Prototypo solo! Mi Dispiace ". He offered to pay cash which is apparently how they do everything in Italy he heard..
WIlson posed with the famous architect Piero Lissoni for the Japanese Press at Kartell. They asked about his materiality, shape and form, not that he knew what they were talking about ( in English or Japanese.) This is the second time Piero and WIlson have been spotted together..People are beginning to talk….
Edra always feels like home. Next year, a WILSON CHAIR "por favor " Brothers Campana! "You could do another one of those "banquette" chairs full of me's" he offered (for no fee).
Wilson made John Pawson and Murray Moss LOL (Note: David Cameron: it means Lough Out Loud in case you've already forgotten) . WIlson is a great admirer of John's work and hopes to be included in the VIP guest list at the Design Museum when it officially opens ("I'm free that night" he says).
Wilson thought Fab's Brillo Boxes were just Fab!. The Americans were almost as friendly as WIlson and clearly love dogs. p.s. WIlson HATES soap.
More press. WIlson decided to be more imaginative in his poses..
Then WIlson had to take a nap at C&C Milano where the Agnellis, Tilda Swinton (who is sleeping a lot these days) all shop for fabric. He asked for a "Sconto" immediately.
Jay Osgerby LOVED Wilson, even more than his current celebrity.
The Cassina Shag-A- Sheep Chair (editors, please note: this is a made up name) was like a womb to Wilson. He doesn't really approve though of chairs made of fellow animals and/or distant- albeit less intelligent -relatives.
WIlson has NO idea what Karl Lagerfeld is looking at or doing at Cassina.... Noone did actually.." Airbrush me too" he asks of the World press.. Disclaimer, disclaimer, disclaimer.
WIlson journey'd back home. M&M will probably sue him for this Photo oppt but it is being used for Artistic purposes he says (nicely to the lawyers).
But not before posing for more pictures in case Mr Montezemolo is looking for the NEW "FACE" of Ferrari.
Next year WIlson will bring his groupies along (like all the famous designers do)
THE END. FINE
For interviews, commissions and or fan letters or blank cheques (checks) please wait until Wilson learns how to use a computer.