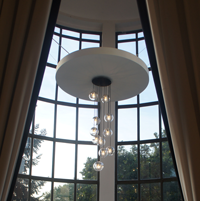 Gino Sarfatti: The Design of Light
a review by Virginia Lucarelli
Milan
In the 100th anniversary of his birth Triennale Design Museum, together with Flos, presents a major anthological exhibition dedicated to Gino Sarfatti, curated by Marco Romanelli and Sandra Severi Sarfatti, one of the founders of the lighting company Luceplan.
The pieces, more than 230, are presented in chronological order and divided by styles. The overview starts with the wall lamps, then moves to the reading lamps, floor lamps and ceiling lamps highlighting the relationships between light and space. Most of the lamps are turned on, giving the exhibition space a joyful and powerful aspect. A sophisticated and minimal graphic design project helps the visitors understanding the designer works and the curatorial project.
In 1939 Gino Sarfatti founded Arteluce, a factory specialised in lighting design, which ended in 1973 transferring the company and all the rights on his works to Flos. For three decades, from the end of the 1930s to the early 1970s, he developed more than 650 lighting devices thanks to an incessant activity of research and innovation. During his outstanding career he won numerous prizes and awards including the Compasso d'Oro in 1954 and 1955, and the Honorary Diploma of the Milan Triennale, and his pieces were distributed in the major international markets.
Sarfatti's work has always had a significant role in the collecting system and most of the exhibited work come from the collection of Clémence and Didier Krzentowski, from Galerie kreo in Paris, from international private collectors and from Archivio Storico Flos. According to the Krzentowskis he is "the best of his category, because he was a long-lasting researcher of forms and techniques. As soon as a new bulb was created, he was doing a new lamp that was completely minimal".
Gino Sarfatti. The design of light
Gino Sarfatti. The design of light
Gino Sarfatti. The design of light
Gino Sarfatti, in his typical Glen plaid suit, shows how to use Mod. 607, 1971