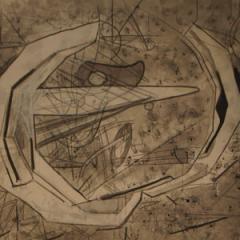 'Casamatta' at Milan Triennale Design Museum
a review by Virginia Lucarelli
Milan
From 21 June to 2 September 2012 the Milan Triennale Design Museum hosted the exhibition Casamatta, curated by Johnny Dell'Orto, exploring the multifaceted work of Roberto Sebastiàn Matta.
Born in Chile in 1911, the surrealist painter designed all the furniture and objects for everyday use of his house, hanging in the balance between art, craft and design.
The curator, fellow countryman and friend of Matta, recently discovered the artist's role as a designer and decided to share "this fabulous world, the product of the joyful, ironic and profound work on one of the greatest artists in the realm of international surrealism" with the public.
The exhibition ideally reproduced the interiors of Matta's house, showing the complexity and genius of the artist. Sculptures and furniture were displayed together with the paintings in order to reveal the strong relationship between his bidimensional and three-dimensional production.
Wooden benches, resin armchairs, terracotta vases and playful textiles welcomed the visitors in a fascinating and cosy scenario All the unique pieces, strongly influenced by his culture and background, represent his versatility and his ability to experiment with different materials.
Despite different design styles and techniques Matta's production is uniform and sophisticated revealing an unknown aspect of his eclectic work.
TIO GATO resin armchair, SIMPOSIO-COMPOSIO oil on canvas
CHAIR WITH THE HORNS, bronze chairs
GATTARE wooden table and totem chairs
L'ARTE DI NOE' wooden armchair sofa, CERES CERESA ERES LA TIERRA oil on canvas
CHATOUILLE wooden bed head, PORTA PUT wooden bedside tables and TANTRA wool carpet