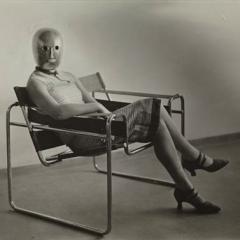 Bauhaus: Art as Life
at the Barbican Art Gallery
London
Exploring the world's most famous modern art and design school, Bauhaus: Art as Life is the biggest Bauhaus exhibition in the UK in over 40 years. From its avant-garde arts and crafts beginnings the Bauhaus shifted towards a more radical model of learning uniting art and technology.
A driving force behind Modernism, it further sought to change society in the aftermath of World War 1, to find a new way of living. This major Barbican Art Gallery show presents the pioneering and diverse artistic production that make up the school's turbulent fourteen-year history from 1919 to 1933 and delves into the subjects at the heart of the Bauhaus – art, design, people, society and culture.
Bauhaus: Art as Life traces the life of the school from its founding by Walter Gropius in Weimar in 1919, and its expressionist-influenced roots, to the embrace of art and industry and subsequent move to a purpose-built campus in Dessau in 1925 under the direction of Gropius and then Hannes Meyer. Finally it looks to the Bauhaus' brief period in Berlin, led by Ludwig Mies van der Rohe and its dramatic closure in 1933, under pressure by the Nazis.
Bauhaus: Art as Life
Bauhaus: Art as Life