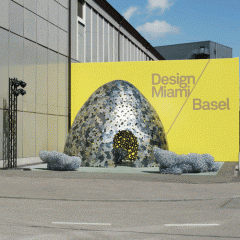 Design Miami/ Basel '12 - A Review
The Mother of Design Fairs Secures Her Crown
Basel
From the 12th through the 17th of June Design Miami/ set up camp in Basel. Bringing together 35 galleries from around the world, the fair boasted a record number of attendees - 22,000 up from 20,500 in 2011.
New galleries to the fair this year included:
Franck Laigneau (Paris), Galerie Dutko (Paris), Galleria O. (Rome), Heritage Gallery (Moscow), Salon 94 (New York), Antonella Villanova (Florence), Armel Soyer (Paris), Erastudio Apartment-Gallery (Milan), Granville Gallery (Paris), Victor Hunt Designart Dealer (Brussels).
The booths that stood out to us most, at DeTnk, where Galerie Patrick Seguin's - at which the gallery reconstructed Jean Prouvé's Maison Métropole Aluminium more about this spectacular installation, including a video here.

Jean Prouvé Maison Métropole Aluminium presented by Galerie Patrick Seguin

We were also taken by 'NATUROSCOPIE' by Noé Duchaufour-Lawrance presented by Galerie BSL.

NOE DUCHAUFOUR-LAWRANCE Naturoscopie II, 2012

Victor Hunt, a gallery new to Design Miami/ Basel - but not to DeTnk - presented (and sold) a wonderful clock by Humans Since 1982 entitled Clock Clock. This particular design was created as a limited edition of 8 + 2 designer proofs and 1 prototype, priced at 22.000€

'Clock Clock' by Humans Since 1982 [image courtesy of Victor Hunt Gallery]
Design Miami/ Basel 2012 was the most important show we have ever held in terms of quality of content and maturity.

The gallery presentations conveyed outstanding material in carefully curated installations, thus creating a true design experience.
Marianne Goebl, director of Design Miami/.