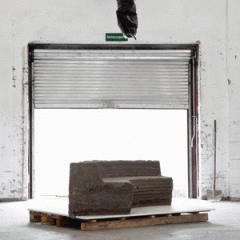 Craft & Scenography at Depot Basel
Design Miami/ Basel '12 Review
Basel
During Design Miami/ Basel we are confronted with many galleries showing their perspective on the best of contemporary design. In contrast to this peacockery, we have Depot Basel - a design platform that brings together contemporary crafts people and designers to open a space for dialogue as well as appreciation for design - whether it be collectible or visually pleasing.
From Depot Basel:
There is nothing more thrilling than a good conversation between different disciplines. With the Craft & Scenography presentation, we bring together a range of contemporary cultures, creating an impressive set of references around craft and scenography; some of them are visually pleasing, some are collectable.
Collectable
Depot Basel INFRASTRUCTURE
For the first occasion at Depot Basel in summer 2011, 9 designers were invited to enter a dialogue with the space and the material that was gathered for them. In the one week workshop a broad selection of unique and thrilling pieces were made. Now Depot Basel wants to share these precious pieces with craft-conscious enthusiasts and with those, who appreciate a collector's piece.

Damien Gernay at Depot Basel

Kaspar Hamacherat at Depot Basel

Max Lipsey at Depot Basel

Mieke Meijer at Depot Basel

Tobias Schaefer at Depot Basel

Tristan Cochrane at Depot Basel
Collectables
PERSONAL CONTENT
Composition is an important element of design. It is the placement or arrangement of visual elements or ingredients, which enables the objects in it to exist at all - to find a balance between emptiness and the use of space. Depot Basel commissioned 13 designers to produce new work for this occasion. Additionally, still-life photographer Christoph Sagel and Depot Basel co-founder Matylda Krzykowski did a photographic journey to the designers' studios and captured them in the scenography in which they see themselves and their work . The 'Personal Content' is displayed in a 2x2m space. Work by A C E, Bastard Collection, Bashko Trybek, Charlotte Talbot, Clemence Seilles, Dik Scheepers, Earnest Studio & Emilie Pallard, Johannes Nagel, Julia Walter, Kaspar Hamacher, Tina Roeder, Tobias Schäfer and Valentin Loellmann.

Personal Content by ACE at Depot Basel 2012

Personal Content by Bashko Trybek at Depot Basel 2012
LA VAGUE at the library
Swiss platform «La Vague« edits self-produced objects. The designers are in control from the idea to the delivery. They will present a collection of original and well-designed products by craftsmen, local factories or themselves in the library of Depot Basel. The library is a separate area in the old grain silo, divided by hanging walls. Dimitri Bähler, Anurag Etchepareborda, Anne Julmy, Linn Kandel and Charlotte Talbot from «La Vague» are planning a surprise visual stimuli for the visitor, which needs to be in everyone's own space.

LA VAGUE at the library
More Images In Our Facebook Gallery