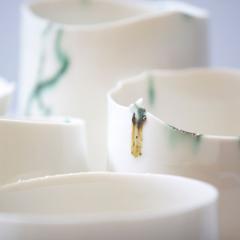 Chun Liao at Marsden Woo Gallery
May 3 - June 16 '12
London
From May 3rd through June 16th 2012 Marsden Woo Gallery are presenting new works by Chun Liao.
Liao's beautiful new vessels evoke her feelings on the subject of time. Her subconscious thoughts are traced by her minimal, richly coloured and captivating work, through which a highly personal poeticism radiates.
Liao's vessels act as markers of her experiences, and through them she leaves something of herself behind, as time moves on.
She explains,

'When I was making these works I was thinking about time, and how it changes our outlook on life. At every stage of life there are certain things that are so important to us, which we care about so much, which we cannot live with or without. But given some time, they might have become insignificant and trivial. When all the dust is settled and passion, love and sorrow are gone, what is left, I wonder.'
Pieces of April I & II, a green and white pair, are what is left of this April, 2012. Blue February, with its intense blues and deep blacks, punctuated by stunning red vessels, echoes the dark and brooding time of year in which it was made. These pieces reveal unique, inimitable moments, which have been captured and preserved in her work.
This personification is extremely important to Liao. She spends long periods of time musing on her work, and looking at, living with, and getting to know each piece is essential to her. The large installation Lament was put together over more than a year, with deep thought going in to each piece included, of which there are over 100. Intuition is highly important in all of Liao's work, and if a vessel seems 'lonely', she will add more to accompany it. This piece evolved slowly as she sensed what was needed to complete the set, to make it 'feel right'.
Chun Liao, 'Lament' (2012), photo © Philip Sayer courtesy of Marsden Woo Gallery
Chun Liao, 'Yellow' (2012), photo © Philip Sayer courtesy of Marsden Woo Gallery
Chun Liao, installation shot, photo © Philip Sayer courtesy of Marsden Woo Gallery
Chun Liao, 'For You' (2012), photo © Philip Sayer courtesy of Marsden Woo Gallery