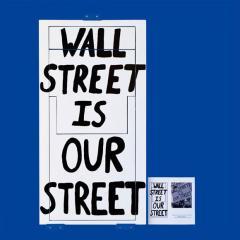 Occupy Chairs by Sebastian Errazuriz
at Cristina Grajales Gallery
Cristina Grajales Gallery is pleased to present Sebastian Errazuriz's new collection of Occupy Chairs, first introduced in the Modern Magazine lounge at the 2012 Armory Show.
Each Occupy Chair, a replica of a real sign used by protesters at Occupy Wall Street, is an edition of 10. Artist Sebastian Errazuriz created the Occupy Chairs first as protest sign and fold out furniture to help occupy public spaces. The second objective of the project is to occupy the homes of the 1% with the message of the 99%.
The artist wishes to support the 99% by inviting collectors (representing the 1%) to purchase the complaints as art or furniture, thus introducing the ideas of one group into the homes of another and at the same time, getting the rich to support the cause of the 99%.
As a double-sided mirror, the Occupy Chairs also explore the potential for these complaints against the richest 1% to be transformed into glamorous and fashionable catch phrases in design-art pieces that celebrate the exclusive luxury market.
Part of the sales of the Occupy Chairs will go to help the occupy movement. The artist chose to deliberately not disclose whether he will donate 99% of the proceeds, or give into his greed and only donate 1%; thus questioning if his own motives will be to support the ideals of the 99% or pursue the wealth and fame of the 1%.
Occupy Chairs by Sebastian Errazuriz
Occupy Chairs by Sebastian Errazuriz