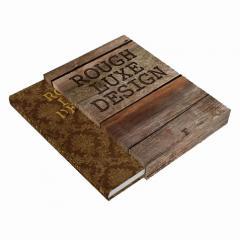 Rough Luxe Design: The New Love of Old
Competition: Win a Free Copy
DeTnk and daab publishers have teamed up to offer readers a unique opportunity to win one of three copies of 'Rough Luxe Design' a compelling documentation of the rough luxe design ethos that has spread throughout the design world.
Rough luxe design creates the kind of authenticity that is unscripted history in physical form. It reinvents the past by redefining luxury today. Here design rejects minimalism and extravagance and celebrates imperfection. It is the embodiment of real at a time when the unexpected and the surprising is valued higher than pristine and probable.
Design elements are washed and worn with history, reminding us of bygone times with an industrial look into the future. Fabrics are distressed over immaculate furnishings, painted walls are faded like expressionist fine art, and perfectly torn wallpaper shows the multiple years of its story.

Bykenyan Accord Home copyright Grace Kelsey // Hanne Borgeyngland Norway Cabin copyright Madeline Söder

The book 'Rough Luxe Design' features the most exclusive list of interior designers, furniture purveyors, industrial designers, and trend-setting entrepreneurs responsible for bringing "rough luxury" into the cultural consciousness. This beautifully illustrated book showcases the best examples of how the masterful staging of raw imperfection can fulfill the desire for a luxury design.
'Rough Luxe Design' is an essential resource for anyone interested in contemporary design. A wonderfully crafted documentation of a point of departure in our cultural ideals for design and luxury. Not only does the book provide stunning images of interiors, it also includes interviews with designers to further explore the ethos of the movement.

Rough Luxe Hotel copyright Marcus Peel // Ricardo Bofill copyright Lluis Carbonell

To enter this competition, simply email your name, delivery address and telephone number to competitions@detnk.com with "Rough Luxe Design" in the subject line. Your information will NOT be shared with any third parties, we are just interested in learning more about our readers.


You may also enter via twitter. To enter tweet:
@DeTnk and daab Publishers are giving away 3 copies of Rough Luxe Design tweet to enter competition #DeTnkdaab
or simply click below:

The competition closes Friday April 30th 2012. Three winners will be selected at random and notified by email. Winners' names will be published in a future edition of our DeTnk newsletter, on twitter and at the bottom of this page. This competition is available to all of DeTnk readers.
If you can't wait for the competition to end to receive your copy, visit the DeTnk bookshop to order one straight away.

Aceny copyright Eric Laignel