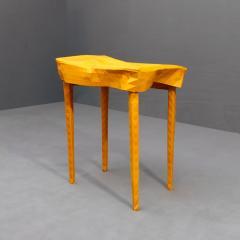 Design Miami/ DeTnk Picks
Elisa Strozyk and Sebastian Neeb for Fendi
Fendi has invited designer Elisa Strozyk and artist Sebastian Neeb to create this year's Design Performance project at Design Miami. Elisa and Sebastian's collaboration has generated a dreamlike installation in which the materials of traditional craftwork have undergone a magical metamorphosis.
The drama of this performance centers on a series of antique furniture pieces, primarily from the 18th century, the golden age of craftwork. These antiques all originate in wood and bear a great deal of intricate ornament, such as carving and marquetry. Through Elisa's and Sebastian's interventions using Fendi discarded leather materials, the furniture has transformed from solid wood into leather and other pliable textiles.
These enchanted objects are set within an environment inspired by Palazzo Fendi, the grand Neo-Classical building that houses Fendi's international headquarters originally built around 1700. Elisa and Sebastian designed the setting after one of the original rooms of the palazzo, which they imagined to have remained secret and untouched for 300 years. In this fantasy, the Fendi spirit has permeated the furnishings, causing them to become transfigured in the manner of Selleria leather goods. Elisa and Sebastian will extend this theme into the design of Design Miami's exclusive Collectors Lounge, hosted for the first time this year by Fendi.
During the fair, you can find Elisa and Sebastian at work in the Design Performance installation, demonstrating the processes (embossing, sewing, braiding and woodworking) behind their creations.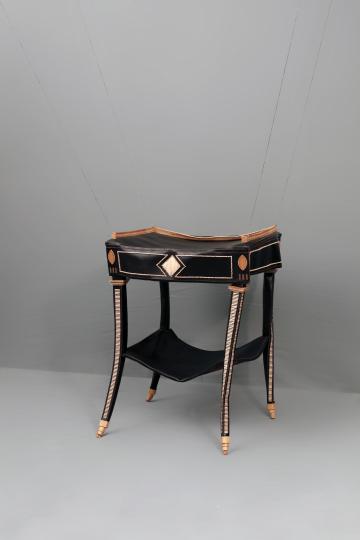 EMBROIDERED TABLE (ROENTGEN) by Elisa Strozyk & Sebastian Neeb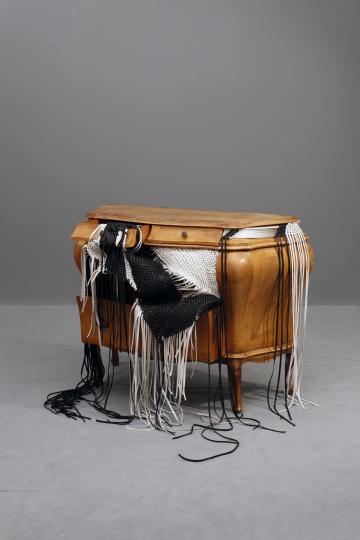 KNOTTED COMMODE by Elisa Strozyk & Sebastian Neeb
Design Performance