Living Contemporary at Wright
15 September '11
Chicago
Wright Auctions are hosting another of their 'Living Contemporary' sales, an ingenious auction category which offers contemporary collectible art and design objects all under the umbrella of contemporary lifestyle.
This category could be just what is needed to boost the contemporary design sector. As we have seen in previous DeTnk Collectible Design Market Reports the contemporary sector is the smallest of the greater design market. Positioning contemporary works of design alongside collectible art is the perfect solution to excite buyers and adjust their sights from mid-century modern to contemporary design.
Lots to Watch
In this auction we are watching lot 223, Tejo Remy's 'You Can't Lay Down Your Memories (ed. 88/200)' estimated at $15,000 - 20,000. Recently at the Sotheby's auction 'What Modern Is: The Collection of Mark McDonald' this the 76th/200 edition of this piece sold for $22,500; however, the estimate, at $20,000 - 30,000 was very generous considering the piece had been bought-in or sold for $15,000 or less in the past few years. This particular piece could be a big indicator for the contemporary design market; will the work return to fetching extreme prices (such as the $57,400 it brought in at Phillips de Pury NYC in 2008), or will it flop as it has in the past?
Continued Trend?
We are also watching lot 356, James Lohmann's 'Boar Tables' estimated at $10,000 - 15,000. In the past few years animal themed work has continued to fetch very high prices. Claude and François-Xavier Lalanne, the duo that has become synonymous with animal themed design, have consistently been at the top of the DeTnk Market Report Top Designers list. With this lot, we are curious to see if the trend will continue, or if collectors tastes are moving in a different direction… We have been seeing a lot of concrete at design shows lately…
You Can't Lay Down Your Memories by Tejo Remy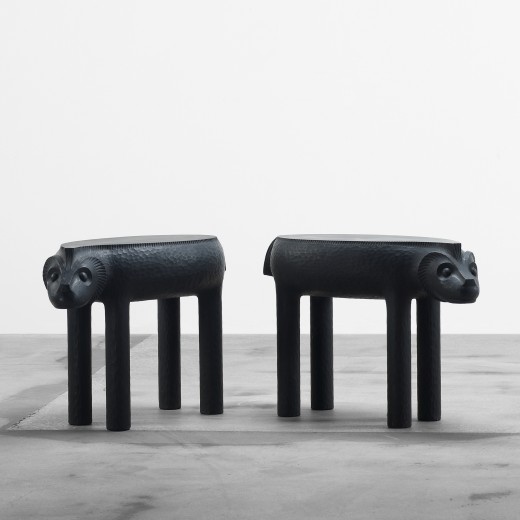 Boar tables, pair by James Lohmann