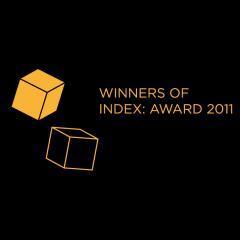 Winners of Index Award
2011
INDEX: Award is the biggest design award in the world. The coveted award carries a total purse of €500,000 (more than US$700,000) and takes place in Copenhagen's new breathtaking Opera House in front of an audience of more than 1,000 Danish and international designers, politicians, business leaders, students, celebrities, etc. who are all invited to the ceremony to celebrate design that makes a difference in people's lives.
This years winners are:
EMBRACE INFANT WARMER
People's Choice Award 2011, BODY Category
What is the problem?
Twenty million premature and underweight babies are born a year and four million of them die. Babies that survive often grow up with life-long illnesses. Babies' lives can be saved by providing them with thermal regulation. However, traditional incubators are expensive and require electricity and are often only found in major urban hospitals. Other current solutions include wrapping hot water bottles around babies' bodies, placing them over hot coals or placing them under light bulbs. These solutions cause many infants to die, even if they had a high chance of survival if they had been given proper medical treatment.
SEE BETTER TO LEARN BETTER (VERBIEN)
INDEX: Award Winner 2011, BODY Category
Free eyeglasses for hundreds of thousands of school children
See Better to Learn Better (VerBien) is a free eyeglasses program for Mexican children designed by former INDEX: Award winner Yves Behar (One Laptop per Child, 2007). It is a collection of customizable and corrective eyewear that is specifically designed for children and young people ages 6-18 years.
HÖVDING
INDEX: Award Winner 2011, PLAY Category
Hövding is a bicycle helmet unlike any other on the market. It's ergonomic, it's practical, it complies with all safety requirements and it's subtle and blends in with what you are wearing. Hövding is a collar for bicyclists, worn around the neck. The collar contains a folded up airbag that inflates only if you have an accident.
DESIGN SEOUL
INDEX: Award Winner 2011, COMMUNITY Category
Design Seoul is the first ever coherent design based approach to improve life for citizens in a very large city. The plan is based on the vision to "design caringly for citizens", and the city of Seoul has been designing people-oriented solutions, not only to solve aesthetic challenges, but also to solve social, environmental and public health issues.
DESIGN FOR CHANGE
INDEX: Award Winner 2011, WORK Category
Design for Change is the largest global movement designed to give children an opportunity to express their own ideas for a better world and put them into action. Children and adults learn through Design for Change that "I Can" are the two most powerful words in the world. Children who have discovered this are changing their world. Design for Change asks students to do four very simple things: Feel, Imagine, Do and Share.
ELEMENTAL MONTERREY
INDEX: Award Winner 2011, HOME Category
Social housing in a groundbreaking new way
ELEMENTAL Monterrey consists of a three story building, with a nine-meter wide house on the ground floor and a duplex apartment on top of it. Both units have a framed void that can be filled by the owners according to their own specific needs, capabilities and preferences. The project provides 70 basic houses with bathrooms, kitchens and staircases - leaving voids that allow residents to adapt and expand each property themselves when it is convenient and when they can afford it until a middle income standard is achieved.
EMBRACE INFANT WARMER : Index Award Winner 2011
SEE BETTER TO LEARN BETTER : Index Award Winner 2011
HÖVDING : Index Award Winner 2011
DESIGN SEOUL : Index Award Winner 2011
ELEMENTAL MONTERREY : Index Award Winner 2011